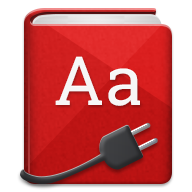 Browse many offline dictionaries!
Offline dictionaries allows you to browse dictionaries without a network connection, such as when you're on a plane, traveling abroad, out of cellular tower range or if you want to save battery!
Description
Download dictionaries you want to the SD card the first time you launch the app and then perform simple or advance searches (with wild-cards), which come in handy when you're working on a crossword puzzle.
Definitions can also be read by the device using a text to speech module (some devices don't support this and some languages may not be available) and the application can be used with ebook readers.
There are more than 50 multi-lingual dictionaries to choose from, including English, French, German, Spanish, Arabic, Japanese, Korean, Hindi, Hebrew, Russian, Italian, Chinese, Portuguese, Dutch, Czech as well as synonyms and anagrams databases.
Download now!
Get the application on Google Play Store for free:

And as well on iPhone, iPod & iPad on the Apple App Store:

Available dictionaries
English (37)

English (WordNet) (137000 entries, 15.44 MiB)
English (Wiktionary) (158000 entries, 22.62 MiB)
English (1913) (176000 entries, 9.11 MiB)
English synonyms (US, WordNet) (146000 entries, 10.96 MiB)
English (synonyms) (24000 entries, 2.05 MiB)
English (anagrams) (52000 entries, 1.16 MiB)
English word list (270000 entries, 4.26 MiB)
Japanese-English (440000 entries, 23.16 MiB)
English-Japanese (320000 entries, 18.87 MiB)
English-Chinese (194000 entries, 9.68 MiB)
Chinese-English (110000 entries, 6.65 MiB)
English-Russian (114000 entries, 11.15 MiB)
Russian-English (67000 entries, 6.55 MiB)
English-Hindi (124000 entries, 5.33 MiB)
Hindi-English (103000 entries, 4.41 MiB)
English-French (116000 entries, 35.23 MiB)
French-English (91000 entries, 21.47 MiB)
Arabic-English (94000 entries, 3.44 MiB)
English-Arabic (92000 entries, 3.13 MiB)
German-English (97000 entries, 16.31 MiB)
English-German (84000 entries, 15.77 MiB)
English-Korean (107000 entries, 5.86 MiB)
Korean-English (61000 entries, 10.39 MiB)
Spanish-English (41000 entries, 6.52 MiB)
English-Spanish (37000 entries, 5.69 MiB)
Italian-English (38000 entries, 4.14 MiB)
English-Italian (29000 entries, 2.85 MiB)
Portuguese-English (27000 entries, 4.12 MiB)
English-Portuguese (23000 entries, 3.32 MiB)
Dutch-English (25000 entries, 4.51 MiB)
English-Dutch (13000 entries, 2.36 MiB)
Polish-English (13000 entries, 2.21 MiB)
English-Polish (8500 entries, 1.5 MiB)
Turkish-English (10000 entries, 1.65 MiB)
English-Turkish (8500 entries, 1.23 MiB)
English-Hebrew (4000 entries, 127.36 KiB)
Hebrew-English (3500 entries, 94.24 KiB)

Arabic (4)

Arabic-English (94000 entries, 3.44 MiB)
English-Arabic (92000 entries, 3.13 MiB)
French-Arabic (18000 entries, 4.03 MiB)
Arabic-French (6500 entries, 1.89 MiB)

Chinese (5)

English-Chinese (194000 entries, 9.68 MiB)
Chinese-English (110000 entries, 6.65 MiB)
French-Chinese (34000 entries, 1.99 MiB)
Chinese-French (25000 entries, 995.24 KiB)
Chinese-Russian (28000 entries, 1.9 MiB)

Czech (3)

Czech (synonyms) (14000 entries, 480.68 KiB)
Czech-French (3000 entries, 86.36 KiB)
French-Czech (3000 entries, 81.34 KiB)

Dutch (8)

Dutch-Japanese (175000 entries, 9.18 MiB)
Japanese-Dutch (59000 entries, 5.35 MiB)
Dutch-French (35000 entries, 16.94 MiB)
French-Dutch (20000 entries, 7.33 MiB)
Dutch-English (25000 entries, 4.51 MiB)
English-Dutch (13000 entries, 2.36 MiB)
German-Dutch (13000 entries, 2.52 MiB)
Dutch-German (13000 entries, 2.74 MiB)

French (37)

French (Wiktionary) (83000 entries, 15.75 MiB)
French (academy, 8th ed.) (31000 entries, 7.2 MiB)
French (Littré 1877) (123000 entries, 54.36 MiB)
French (synonyms) (36000 entries, 3.48 MiB)
French (anagrams) (102000 entries, 2.41 MiB)
French word list (530000 entries, 8.17 MiB)
German-French (179000 entries, 34.17 MiB)
French-German (76000 entries, 18.91 MiB)
English-French (116000 entries, 35.23 MiB)
French-English (91000 entries, 21.47 MiB)
Spanish-French (69000 entries, 15.39 MiB)
French-Spanish (63000 entries, 11.53 MiB)
Japanese-French (51000 entries, 6.44 MiB)
French-Japanese (42000 entries, 5.27 MiB)
Italian-French (34000 entries, 10.01 MiB)
French-Italian (30000 entries, 8.16 MiB)
French-Chinese (34000 entries, 1.99 MiB)
Chinese-French (25000 entries, 995.24 KiB)
Dutch-French (35000 entries, 16.94 MiB)
French-Dutch (20000 entries, 7.33 MiB)
French-Russian (27000 entries, 4.51 MiB)
Russian-French (27000 entries, 5.28 MiB)
Portuguese-French (29000 entries, 11.3 MiB)
French-Portuguese (23000 entries, 7.01 MiB)
French-Arabic (18000 entries, 4.03 MiB)
Arabic-French (6500 entries, 1.89 MiB)
Polish-French (12000 entries, 5.32 MiB)
French-Polish (10000 entries, 4.08 MiB)
Korean-French (10000 entries, 3.15 MiB)
French-Korean (9500 entries, 2.66 MiB)
Turkish-French (7000 entries, 3.01 MiB)
French-Turkish (6500 entries, 2.39 MiB)
Walloon-French (13000 entries, 331.75 KiB)
Czech-French (3000 entries, 86.36 KiB)
French-Czech (3000 entries, 81.34 KiB)
Hindi-French (2500 entries, 878.39 KiB)
French-Hindi (2000 entries, 805.03 KiB)

German (24)

German (Wiktionary) (199000 entries, 60.1 MiB)
German (synonyms) (43000 entries, 2.76 MiB)
German-Russian (37000 entries, 3.72 MiB)
Russian-German (34000 entries, 3.74 MiB)
German-Japanese (290000 entries, 18.9 MiB)
Japanese-German (250000 entries, 16.38 MiB)
German-French (179000 entries, 34.17 MiB)
French-German (76000 entries, 18.91 MiB)
German-English (97000 entries, 16.31 MiB)
English-German (84000 entries, 15.77 MiB)
German-Spanish (44000 entries, 7.68 MiB)
Spanish-German (41000 entries, 7.93 MiB)
German-Italian (31000 entries, 4.87 MiB)
Italian-German (31000 entries, 5.43 MiB)
German-Polish (20000 entries, 3.58 MiB)
Polish-German (20000 entries, 4.05 MiB)
German-Portuguese (20000 entries, 3.41 MiB)
Portuguese-German (20000 entries, 3.49 MiB)
German-Dutch (13000 entries, 2.52 MiB)
Dutch-German (13000 entries, 2.74 MiB)
German-Turkish (11000 entries, 1.81 MiB)
Turkish-German (10000 entries, 2.06 MiB)
German-Korean (5500 entries, 706.38 KiB)
Korean-German (4000 entries, 563.87 KiB)

Hebrew (2)

English-Hebrew (4000 entries, 127.36 KiB)
Hebrew-English (3500 entries, 94.24 KiB)

Hindi (6)

English-Hindi (124000 entries, 5.33 MiB)
Hindi-English (103000 entries, 4.41 MiB)
Hindi-French (2500 entries, 878.39 KiB)
French-Hindi (2000 entries, 805.03 KiB)
Hindi-Portuguese (1500 entries, 243.64 KiB)
Portuguese-Hindi (1500 entries, 243.88 KiB)

Irish (1)

Irish (synonyms) (320000 entries, 16.08 MiB)

Italian (19)

Italian (Wiktionary) (33000 entries, 5.02 MiB)
Japanese-Italian (84000 entries, 4.68 MiB)
Italian-Japanese (70000 entries, 4.52 MiB)
Italian-English (38000 entries, 4.14 MiB)
English-Italian (29000 entries, 2.85 MiB)
Italian-French (34000 entries, 10.01 MiB)
French-Italian (30000 entries, 8.16 MiB)
German-Italian (31000 entries, 4.87 MiB)
Italian-German (31000 entries, 5.43 MiB)
Italian-Russian (15000 entries, 594.74 KiB)
Russian-Italian (13000 entries, 519.38 KiB)
Italian-Spanish (12000 entries, 1.42 MiB)
Spanish-Italian (10000 entries, 1.21 MiB)
Italian-Portuguese (9500 entries, 1022.59 KiB)
Portuguese-Italian (8500 entries, 980.58 KiB)
Italian-Korean (3500 entries, 361.5 KiB)
Korean-Italian (2500 entries, 287.44 KiB)
Italian-Turkish (1000 entries, 75.96 KiB)
Turkish-Italian (1000 entries, 102.4 KiB)

Japanese (14)

Japanese-English (440000 entries, 23.16 MiB)
English-Japanese (320000 entries, 18.87 MiB)
German-Japanese (290000 entries, 18.9 MiB)
Japanese-German (250000 entries, 16.38 MiB)
Dutch-Japanese (175000 entries, 9.18 MiB)
Japanese-Dutch (59000 entries, 5.35 MiB)
Japanese-Italian (84000 entries, 4.68 MiB)
Italian-Japanese (70000 entries, 4.52 MiB)
Japanese-Spanish (80000 entries, 4.42 MiB)
Spanish-Japanese (69000 entries, 4.07 MiB)
Japanese-French (51000 entries, 6.44 MiB)
French-Japanese (42000 entries, 5.27 MiB)
Japanese-Russian (18000 entries, 887.29 KiB)
Russian-Japanese (12000 entries, 669.41 KiB)

Korean (19)

Korean (148000 entries, 11.82 MiB)
Korean (Hanja / Hanzi) (125000 entries, 4.07 MiB)
Korean (Law) (3000 entries, 1.42 MiB)
English-Korean (107000 entries, 5.86 MiB)
Korean-English (61000 entries, 10.39 MiB)
Korean-French (10000 entries, 3.15 MiB)
French-Korean (9500 entries, 2.66 MiB)
Russian-Korean (8000 entries, 675.45 KiB)
Korean-Russian (6500 entries, 575.5 KiB)
Portuguese-Korean (5500 entries, 727.81 KiB)
Korean-Portuguese (5000 entries, 682.99 KiB)
German-Korean (5500 entries, 706.38 KiB)
Korean-German (4000 entries, 563.87 KiB)
Spanish-Korean (5000 entries, 669.63 KiB)
Korean-Spanish (3500 entries, 558.6 KiB)
Italian-Korean (3500 entries, 361.5 KiB)
Korean-Italian (2500 entries, 287.44 KiB)
Turkish-Korean (3000 entries, 351.27 KiB)
Korean-Turkish (2500 entries, 258.92 KiB)

Polish (9)

Polish (synonyms) (31000 entries, 2.38 MiB)
German-Polish (20000 entries, 3.58 MiB)
Polish-German (20000 entries, 4.05 MiB)
Polish-French (12000 entries, 5.32 MiB)
French-Polish (10000 entries, 4.08 MiB)
Polish-English (13000 entries, 2.21 MiB)
English-Polish (8500 entries, 1.5 MiB)
Polish-Russian (9000 entries, 352.79 KiB)
Russian-Polish (9000 entries, 338.51 KiB)

Portuguese (18)

Portuguese-French (29000 entries, 11.3 MiB)
French-Portuguese (23000 entries, 7.01 MiB)
Portuguese-English (27000 entries, 4.12 MiB)
English-Portuguese (23000 entries, 3.32 MiB)
German-Portuguese (20000 entries, 3.41 MiB)
Portuguese-German (20000 entries, 3.49 MiB)
Portuguese-Spanish (18000 entries, 2.37 MiB)
Spanish-Portuguese (17000 entries, 2.24 MiB)
Portuguese-Russian (12000 entries, 988.79 KiB)
Russian-Portuguese (12000 entries, 999.93 KiB)
Italian-Portuguese (9500 entries, 1022.59 KiB)
Portuguese-Italian (8500 entries, 980.58 KiB)
Portuguese-Korean (5500 entries, 727.81 KiB)
Korean-Portuguese (5000 entries, 682.99 KiB)
Turkish-Portuguese (4000 entries, 589.03 KiB)
Portuguese-Turkish (3500 entries, 518.88 KiB)
Hindi-Portuguese (1500 entries, 243.64 KiB)
Portuguese-Hindi (1500 entries, 243.88 KiB)

Russian (21)

German-Russian (37000 entries, 3.72 MiB)
Russian-German (34000 entries, 3.74 MiB)
English-Russian (114000 entries, 11.15 MiB)
Russian-English (67000 entries, 6.55 MiB)
French-Russian (27000 entries, 4.51 MiB)
Russian-French (27000 entries, 5.28 MiB)
Spanish-Russian (19000 entries, 1.23 MiB)
Russian-Spanish (18000 entries, 1.17 MiB)
Japanese-Russian (18000 entries, 887.29 KiB)
Russian-Japanese (12000 entries, 669.41 KiB)
Italian-Russian (15000 entries, 594.74 KiB)
Russian-Italian (13000 entries, 519.38 KiB)
Chinese-Russian (28000 entries, 1.9 MiB)
Portuguese-Russian (12000 entries, 988.79 KiB)
Russian-Portuguese (12000 entries, 999.93 KiB)
Polish-Russian (9000 entries, 352.79 KiB)
Russian-Polish (9000 entries, 338.51 KiB)
Russian-Korean (8000 entries, 675.45 KiB)
Korean-Russian (6500 entries, 575.5 KiB)
Turkish-Russian (6500 entries, 342.07 KiB)
Russian-Turkish (5500 entries, 273.03 KiB)

Spanish (20)

Spanish (Wiktionary) (58000 entries, 13.47 MiB)
Spanish (synonyms) (20000 entries, 1.94 MiB)
Japanese-Spanish (80000 entries, 4.42 MiB)
Spanish-Japanese (69000 entries, 4.07 MiB)
Spanish-French (69000 entries, 15.39 MiB)
French-Spanish (63000 entries, 11.53 MiB)
German-Spanish (44000 entries, 7.68 MiB)
Spanish-German (41000 entries, 7.93 MiB)
Spanish-English (41000 entries, 6.52 MiB)
English-Spanish (37000 entries, 5.69 MiB)
Spanish-Russian (19000 entries, 1.23 MiB)
Russian-Spanish (18000 entries, 1.17 MiB)
Portuguese-Spanish (18000 entries, 2.37 MiB)
Spanish-Portuguese (17000 entries, 2.24 MiB)
Italian-Spanish (12000 entries, 1.42 MiB)
Spanish-Italian (10000 entries, 1.21 MiB)
Spanish-Korean (5000 entries, 669.63 KiB)
Korean-Spanish (3500 entries, 558.6 KiB)
Turkish-Spanish (2000 entries, 397.62 KiB)
Spanish-Turkish (2000 entries, 348.05 KiB)

Turkish (16)

German-Turkish (11000 entries, 1.81 MiB)
Turkish-German (10000 entries, 2.06 MiB)
Turkish-English (10000 entries, 1.65 MiB)
English-Turkish (8500 entries, 1.23 MiB)
Turkish-French (7000 entries, 3.01 MiB)
French-Turkish (6500 entries, 2.39 MiB)
Turkish-Russian (6500 entries, 342.07 KiB)
Russian-Turkish (5500 entries, 273.03 KiB)
Turkish-Portuguese (4000 entries, 589.03 KiB)
Portuguese-Turkish (3500 entries, 518.88 KiB)
Turkish-Korean (3000 entries, 351.27 KiB)
Korean-Turkish (2500 entries, 258.92 KiB)
Turkish-Spanish (2000 entries, 397.62 KiB)
Spanish-Turkish (2000 entries, 348.05 KiB)
Italian-Turkish (1000 entries, 75.96 KiB)
Turkish-Italian (1000 entries, 102.4 KiB)